In commercial venues, all furniture must meet UK fire prevention regulations. If the materials meet the specifications then they are awarded a 'Crib 5' certification. This is a higher flame retardancy recognition than is specified for domestic environments. It is also known as 'Ignition Source 5'. It does not mean that the product is entirely fireproof, but it hugely reduces the risk of ignition.
What part of the furniture does it refer to?
A Crib 5 certification is given to a product for the upholstery fabrics used as well as the cushioning foam beneath the fabric. If one of these elements does not conform then the product is not considered safe enough to meet the regulations. All Inside Out products meet these specifications.

Why is Fire Retardant (FR) material important?
It is designed to resist ignition which gives a person time to notice the fire threat, evacuate the area and resolve the issue.
Can you treat materials and pre-upholstered products to be Flame Retardant?
It is impossible to treat pre-upholstered products to be flame retardant which is why we offer COM for the majority of our collection. There are some materials that can be treated, however, different material surfaces respond to treatments differently. Many outdoor fabrics are difficult to treat because they already have weatherproofing treatments which may either prevent the fire-retardant coating from working or be removed by it. The treatment works as a chemical coating that might not stick to the surface. It is also difficult to get an even coating on fabric with thick piles, and the chemical can drastically change its feel.
Will a Crib 5 interliner pass the test?
No, an interliner is not sufficient, unless the fabric used has a 75% natural composition (such as wool).
Does Crib 5 wear away?
No, crib 5 does not wear away. It is behind the fabric so there is no need to apply additional treatments in the future.
Where is Crib 5 required?
It is required for any UK contract venue, the following locations all ask for a crib 5 rating:

Educational spaces
Workplaces
Hotels
Museums
Leisure facilities - cinemas/casinos/spas etc.
Hostels
Public buildings
Pubs and Bars
Restaurants and Cafes
Care and Retirement Homes
Hospitals

We advise it is best to check with the fire safety officer for the specific requirements for the environment.
Does Outdoor Furniture need to meet the requirements?
In the hospitality sector, the term 'outdoor seating' has grown to encompass not only open-air products but also conservatory-style furniture. They often closely resemble one another and have hybrid indoor/outdoor use. Sometimes the pieces are also stored indoors, therefore the regulations still apply. There are also many possible ignition sources surrounding outdoor furniture, from fire pits to patio heaters so risk assessments should be completed and if there is any chance the products will be used in an enclosed area, they must be Crib 5.
What is a Crib 5 test?
To award the product with this rating there is a particular test that the materials undergo. The material must prove itself resistant to various ignition sources that are placed in contact with it.
What are the different ignition sources?
Ignition Source 0 - smouldering cigarette
Ignition Source 1 - match or equivalent gas flame
Ignition Source 2 - gas flame
Ignition Source 3 - gas flame
Ignition Source 4 - wood crib
Ignition Source 5 - wood crib (dry wood stacked in a lattice formation)
Ignition Source 6 - wood crib
Ignition Source 7 - wood crib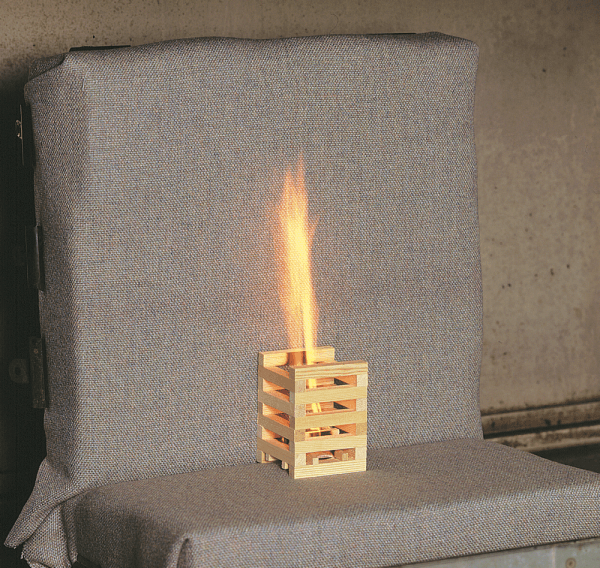 Who regulates the flame retardancy certification?
It is regulated by FIRA - the Furniture Industry Research Association.
How do I know if my chosen fabric is Crib 5 suitable?
All the Fabrics that Inside Out supply are Crib 5 certified. If choosing your own material, the fabric manufacturer will display a fire retardancy rating - for Crib 5 that is simply the number '5' with a flame and cigarette symbol.
If you have any confusion about the matter, our account managers can help explain to you and find out if your preferred fabric is appropriate.